Interior Design
FunkYard Philosophy for your home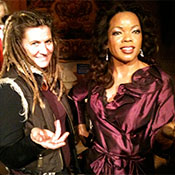 The way Sally approaches interior design is somewhat the same way she approaches her art, through intriguing found objects.

Finding a unique piece for an alternative kitchen island, or reclaiming salvage windows and claw tubs can be the starting point for one-of-a-kind furniture and lighting.

Sally has the talent and vision to build an entire design around these unique treasures, using the object, color or idea as the springboard for your design landscape.

The FunkYard Philosophy: Your home should be an artful extension and expression of yourself, not a cookie cutout - it should be as wonderfully unique as you and your family!

Sally Peterson has been featured on the Oprah Winfrey show as a unique and talented designer of her own home and home furnishings at Big Star Ranch. Schedule your consultation to bring a bit of FunkYard to your home.

Gallery of Sally Peterson's Work