Collaboration
HANDCRAFTED Wood & Metal Creations for Home or Business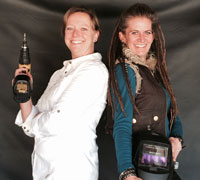 From renovations to innovations in interior design and furnishings, Monica and Sally collaborate with you to create your unique space.
Monica wrangles and whittles wood (preferrably reclaimed), and Sally tames and teases metal (or other obtainium) for warm-and-rustic, industrial, modern and truly one-of-a-kind designs that are environmentally responsible. Check out the Union article about us!

Naked Tree Woodworking is owned and operated by Monica Hughes (since 1998). Naked Tree specializes in custom furniture, homes offices and one-of-a-kind pieces. Visit Naked Tree Woodworking website. Monica and Sally have a lot of fun working together, and their wood + steel creations can be seen all over town...see photos of their work.
The Funkyard is owned and operated by Sally Peterson. Whether structural, interior or exterior, whatever Sally creates with her plasma torch and welder is a piece of art. Since 1995. See The Funkyard gallery.
What You Get From Monica & Sally
Not only are they friendly and fun to work with, they'll put their heart and soul, in addition to their talent, in to your project. Their magical recipe for success is as follows:
Creativity
*relatively no blood or tears